We are your table lamp and floor lamp headquarters. With over 3,000 table lamps and 2,000 floor lamps in store to choose from, plus over 12000 shades, you can create your own design and customize the lamp to your own style. Whether it's crystal table lamps, traditional table lamp, ceramic lamps, mini table lamps, LED desk lamps, or Tiffany lamps, we will have it in a variety of colors and finishes.
Since the repair and service center is on-site, we can customize any table lamp or floor lamp to your specs. We carry various American made lamp parts, lamp shades, and lamp accessories. Our expert staff is always on hand to assist you in finding the right lamp for your needs and decor.
Table lamps and floor lamps are the perfect task light. Decorative floor lamps and table lamps provide extra light right where you need it most so you can get things done without straining your eyes.
To check if a table light fixture and the lamp shade is the correct one for you, sit down next to it. The bottom part of the shade should be at eye-level while you are seated. Make sure you use the recommended wattage for the socket as well. The maximum wattage is there to ensure the lamp shade does not burn or get too hot from the bulb heat. We always suggest using a wattage lower than the listed maximum wattage as this increase longevity in the wear of the shade as well as the lamp and bulb. LED bulbs are another great way to do this without sacrificing brightness.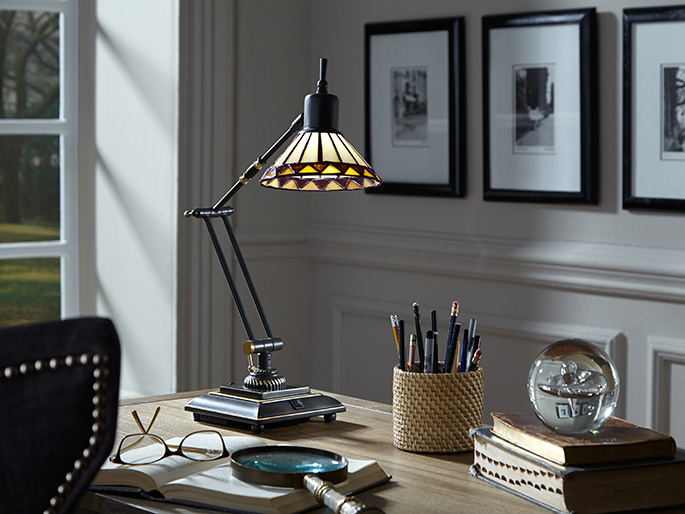 If using the portable lamp for working, reading, crafting, or other tasks that require plenty of light, get a LED desk lamp or floor lamp with a task light. Desk lamps are don't take up too much room, and are an easy way to add extra task lighting to any space. We carry desk lamps and pharmacy floor lamps from a variety of lighting manufactures such as George Kovacs, Lite Source, House of Troy, Adesso, and more.
Table lamps come in a variety of shapes, sizes and styles. Lamps are a great way to add flair to a room without doing a bunch of DIY projects or calling in a designer. The portability of table lamps and floor lamps make them the easiest and least expensive choice to quickly update the look and feel of a room. End tables in a living room, a dresser or night stand in the bedroom, accent table in the foyer, even the buffet table in the dining room, are areas perfect for table lamps.